This pumpkin cream cold brew recipe, inspired by the new Starbucks drink, is made with your choice of iced coffee and the yummiest pumpkin spice foam — which is surprisingly simple to make homemade!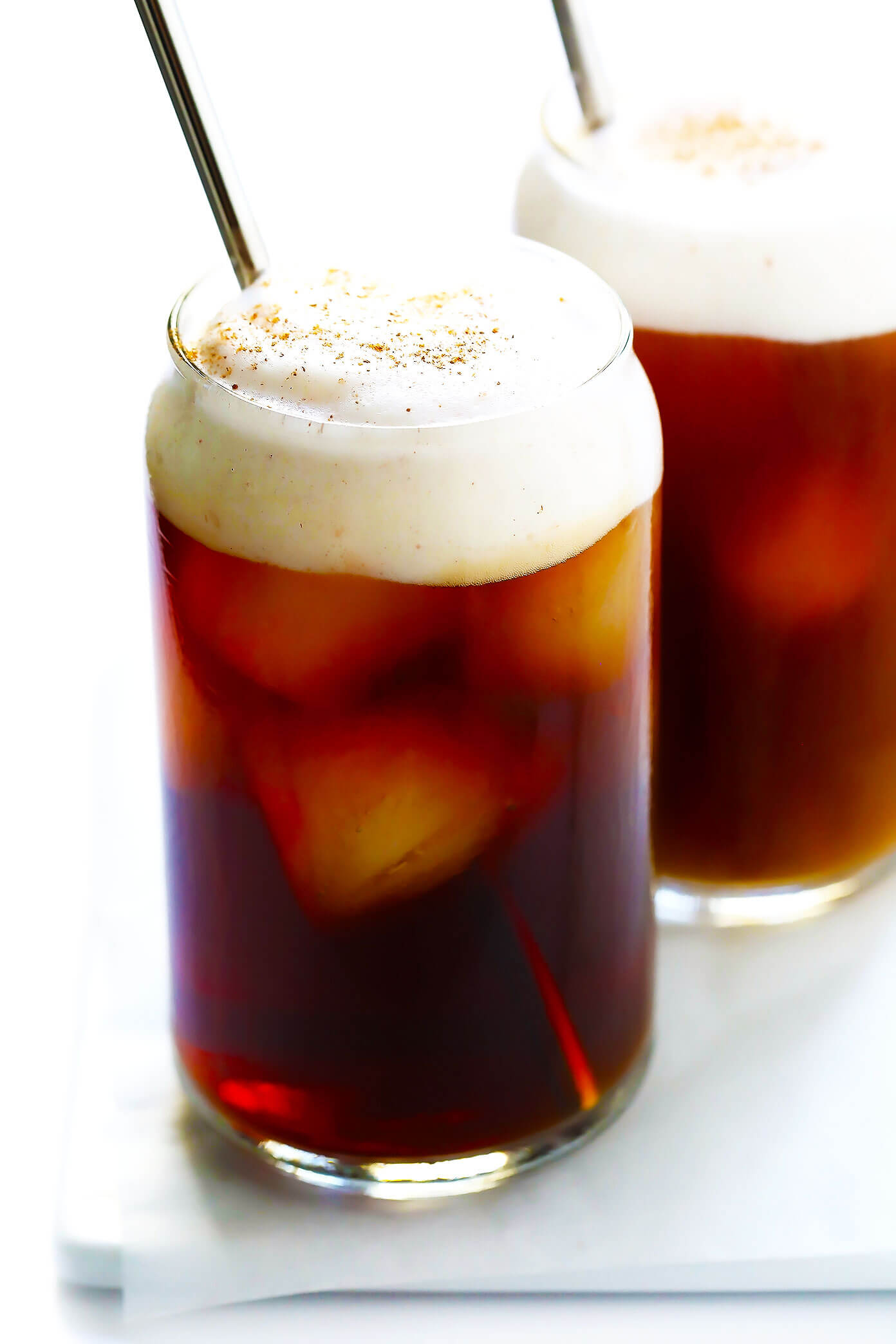 Raise your hand if you love Starbucks' new pumpkin cream cold brew coffee! ♡
Well, fun news — Barclay (who worked as a barista back in the day) and I have been tinkering around with a copycat version this past week, and I think that we've finally nailed it!
Turns out that the drink's signature pumpkin foam is surprisingly easy to make in less than 5 minutes with just a few basic ingredients (milk, sweetener, vanilla, pumpkin purée, pumpkin pie spice and salt).  Plus of course, when making your own version homemade, you have the added bonus of being able to mix and match your preferred brewing method, type of milk, and type (and amount!) of sweetener.  So whether you go the skim-milk-maple-syrup-iced-pour-over-coffee route like me, or maybe opt for an almond-milk-honey-nitro-iced-coffee combo, or just want to stay true to the original with a half-and-half-granulated-sugar-Starbucks-cold-brew-coffee — you get to call the shots with your coffee order here, and the the options for customizing are deliciously limitless.
I also have to say that I'm a huge fan of this drink because it is refreshingly not too sweet.  I make mine with even less sweetener than the Starbucks version (which is already mercifully less sugary than its famous pumpkin spice latte cousin), yet I'm happy to report that my pumpkin cream cold brew still tastes just as refreshing and autumn-y and pumpkin-spice-y as ever.
Basically, I'm now convinced it's the perfect drink for transitioning from summer into fall.  And let's be real, conquering pumpkin foam at home is going to land you some major barista bragging rights. ;)
So round up these ingredients, and let's make some pumpkin cream cold brew together!